InsideTopAlcohol
InsideTopAlcohol
DELAWARE, Ohio (June 25) -- Global Electronic Technology has announced continued support of Top Alcohol Dragster pilot Troy Coughlin Jr. and his JEGS.com McPhillips Racing rail. The company first supported Coughlin last year when he drove a Top Fuel dragster for Kalitta Motorsports.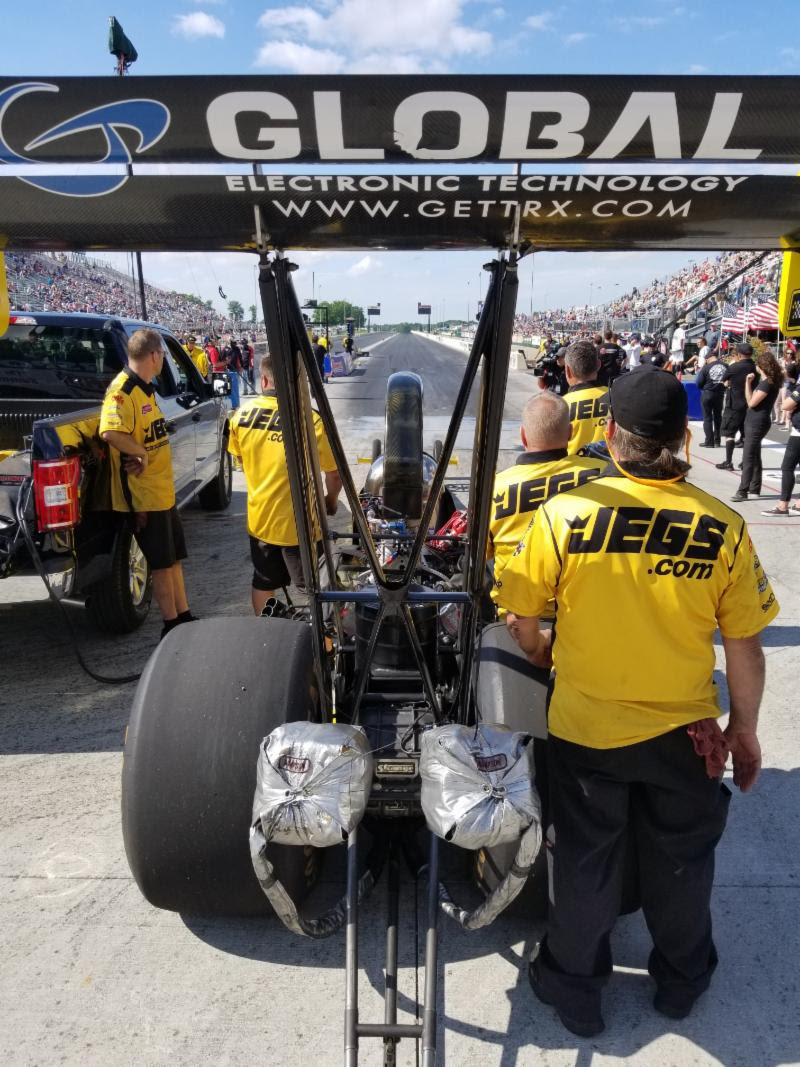 ​
"I got to know T.J. when he was driving for Kalitta Motorsports, and we met his fiancé Brenna and the entire Coughlin family during that time and we just fell in love with all of them," said Global Electronic Technology founder Steve Bryson. "Their family is like my family and the values we share and the lineage they have attracted us the most.
"The Coughlins are winners, both at the track and in business. They're very competitive and everybody over there has a drive and determination that makes them successful. These are my kinda people. When T.J. left to drive Top Alcohol, we didn't hesitate to continue our support. I think he'll be back in Top Fuel one day and I want to be there with him when it happens. I believe in the kid."
Coughlin didn't take long to show his appreciation to Bryson. Just days after signing his new deal, he drove to victory at the annual Cavalcade of Stars presented by Budweiser in Norwalk, Ohio. It was the 13th career victory for the third-generation pro and his first in TAD. He's also won races in Super Comp, Super Gas and Super Pro.
"Steve and Samantha Bryson are just wonderful people and I am very thankful for their friendship and support," Coughlin said. "They have such big hearts and I am very lucky to be involved with them and absolutely honored to advertise a great company like Global Electronic Technology.
"They run an awesome merchant services...
Norwalk, Ohio - Even though the weather didn't fully cooperate, it was a good outing for Duane Shields and the PEAK Team. They did everything right but lost a very close nail-biter in the second round of eliminations at the 12th annual Summit Racing Equipment NHRA Nationals. "It was a rain plagued race which always effects the race teams and makes the event a guessing game" Duane noted.

Duane qualified fifth with a respectable 5.31@ 276 MPH. This set up a showdown between Duane in the PEAK Dragster and Corey Michalek. At the hit, Michalek pulled off an impressive 0.010 reaction time to Duane's 0.037. Unfortunately for Michalek, his great reaction time was all for nothing as he immediately lost traction right off of the starting line. Meanwhile, Duane was on a clean pass and stopped the clock with a 5.33 at 272 MPH for the win.

In the quarterfinals, Duane took on Troy Coughlin Jr. This race turned out to be one for the highlight reel. At the startingline, Duane was out of the gate first with an 0.059 to Coughlin's 0.077. Both cars were side by side with Duane slightly ahead by mid track. Then, Coughlin was able to overpower Duane and command the lead. At the finish line Coughlin held on by inches, taking the narrow win with a 5.28 at 276 MPH to Duane's very close 5.32 at 275 MPH. "They had good MPH at half track and I think that was the race. It's disappointing to see them slow down in the next round after they had their best run against me" Duane said.

Next weekend the team heads to Lebanon Valley Dragway in New York. If you are in the Northeast, this will be your chance to see the nitro fueled dragsters up close and personal. "The car is running great and my driving is good so we'll roll into New York expecting to do well" Duane said. The race team would like to thank PEAK Antifreeze and Motor Oil, Final Charge, Blue Def, NGK, GRP and Brad Anderson Enterprises for their support.
NORWALK, Ohio (June 24) -- NORWALK, Ohio (June 24) -- Troy Coughlin Jr. drove his JEGS.com McPhillips Racing Top Alcohol Dragster to a runner-up finish Sunday, leading the Team JEGS effort in their home state of Ohio. Troy Jr.'s uncle, six-time world champion Jeg Coughlin Jr., reached the second round before falling to teammate Erica Enders, ending a three-race winning streak for the 79-time national event winner.

A winner at this facility one month ago during a divisional race, Troy Jr. almost repeated the feat but ultimately fell to Megan Meyer by a thousandth of a second. Troy Jr. was up for the race, peeling off a stellar .027-second reaction time, well ahead of Meyer's lazy .075-second start, but Meyer managed to make up the deficit and win with a 5.320 at 277.94 mph to Troy Jr.'s 5.369 at 275.67 mph. The margin of victory was six inches.
"I desperately wanted to win another race in my home state of Ohio," Troy Jr. said. "We got very close but credit to that Meyer team, they were strong all weekend. I wanted to do all I could to help my guys in the final and I'm pleased to have made a race out of it. I actually thought we had it won but she must have nipped us right at the line. Good race.

"Thank you so much to everyone here who gave us so much support all weekend long. The JEGS brand is strong here and we appreciate our loyal customers and fans. I also want to thank Steve and Samantha Bryson at Global Electronic Technology for their support. I'm humbled by the hard work put in by the crew at McPhillips Racing. I could not be on a better team. We'll get 'em, next time."

In reaching his second final of the year, Troy Jr. beat Jeff Chatterson, Duane Shields and Todd Bruce....